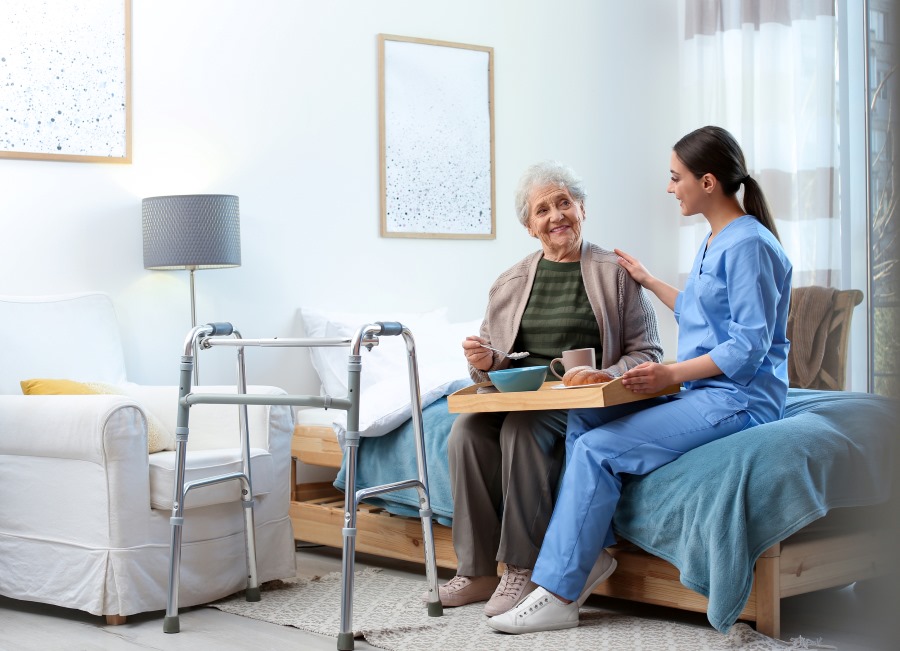 Finding the right in-home care is critical for your loved one's emotional and physical well-being. Just as every senior is different, so are the care services they need. So, how do you find the best in-home care for your loved one?
Why You Need In-Home Care
If you're a parent or a caretaker of someone needing assistance, you know that feeling of worry when your loved ones are out of sight. Hiring In-home health care professionals can grant parents and caretakers the opportunity to take a deep breath and relax. Trained and qualified professionals not only serve as companions, but they are also able to assess safety risks, make simple corrections in the home, provide ambulatory assistance and much more.
By providing compatible In-home care services, you will be able to address the health, safety, and comfort needs of your loved ones, help them remain independent as much as possible, and minimize the stress they experience as they have to adjust to new challenges in their lives. Moreover, hiring in-home care can be highly beneficial to the mental health of your loved one – living at home can be isolating for older adults. It is challenging for those who don't drive or have family nearby. A personal care aide can help by providing companionship, someone to eat meals with, or someone to talk to during the day.
Assessing Needs
First, It's necessary to assess your loved one's needs, as they will determine what type of in-home care services you should consider. Different home health aide agencies provide various kinds of services, so choose an agency that will meet your loved one's needs best. The first thing to consider is whether they need help for activities of daily living (ADLs), care services for safety and security, or just for companionship. If your loved one struggles with specific conditions or ailments such as Dementia or Alzheimer's, make sure that the caregiver is experienced in this area and offers specific services and support to ensure the best quality of life. Otherwise, you can ask for a personal care aide trained to help with bathing, eating, dressing, or household chores.
Another thing to take into consideration is that when it comes to hiring in-home care, you want to think long-term. Remember, this person will be around for a while. If your dear one needs light assistance around the house but may require more qualified assistance in the future, maybe opt to choose a provider with scalable services to meet the changing needs of senior clients.
How Does an Agency Find the Right Caregiver for Your Needs?
Home health aide agencies provide a reliable and easy way to find a good caregiver for your loved one. They ensure all their caregivers meet specific criteria and have the right skills to provide the best care possible. Should your loved one's care needs change or escalate, agencies will also have access to a broader range of qualified caregivers.
Here are just some of the perks of working with an agency:
Agency staff is screened for criminal background, drug use, and other issues.

The client's needs and diagnosis can change in a heartbeat. If they do, most agencies can promptly provide you with a more compatible caregiver.

The agency handles all the paperwork – taxes, payroll, schedules, and other necessary documents.

If your regular caregiver gets sick or doesn't show up, the agency can quickly find a replacement to cover for them.

In a short and sweet sentence – All of the caregiving, none of the hassle.
Getting References & Getting to Know the Caregiver
When you've narrowed down your agency options, it's time to schedule phone calls and in-person interviews. This is the same as interviewing for a job – you want to confirm that your top candidates are the best fit before moving forward. Take the time to meet with potential caregivers and get to know them and their proficiency level. Don't just go with the most affordable quote or most attractive price. Dig deeper and ask questions to gain a better understanding of the agency's compatibility with your needs. Compare agencies, get references from past customers and families of seniors they cared for, and last but not least – trust your gut and listen to your instincts. Some questions you might want to consider asking:
Is there supervision of the caregivers?

How experienced is the caregiver?

What services are they qualified to perform?

Do you designate multiple caregivers for each patient, or will it be one consistent caregiver?

How do you deal with stressful situations (specify possible conditions)

What did you learn from previous experiences on the job?
Choosing a home healthcare agency can be a difficult decision. To get the best care, you should investigate your options thoroughly. Get references and ask questions. Be sure to choose an agency that makes you feel comfortable and will provide all the necessities to make your loved one's life better.
Do you need in-home care? Don't hesitate to call Surework Solutions for quality, consistent and affordable in-home care in Victoria & Sidney, BC. Call us today at 250-361-2028 (Victoria) or 250-984-7615 (Sidney) or email us at inquiry@sureworksolutions.com to see which of our senior care options best suits your needs – we'd be happy to discuss the details with you.