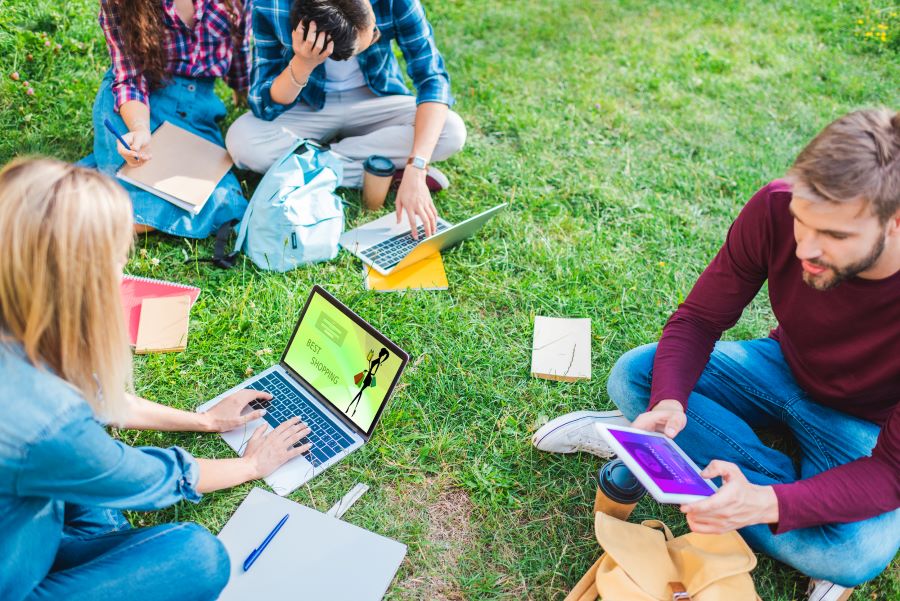 It is not without reason that Canada has made it into several 'Best Places for International Education" lists, including educations.com's "Top 10 Places in the World to Study Abroad" list for 2021.
Canada's welcoming approach toward immigrants from all over the world, its innovative cities, world-class quality education, and comparatively affordable living cost – all these qualities and more, topped with unbelievably stunning nature and lovely people, make it a beautiful destination for international students.
The Benefits of Being on a Student Visa in Canada
Applying for a student visa in Canada offers many advantages to those interested in becoming permanent residents. Did you know that just by being in Canada, you have already raised your chances of becoming a permanent resident?
Other than the benefit that simply being in Canada gives you, a student visa gives you a few other advantages that can drastically jump-start your way to becoming a permanent resident:
Working in Canada – A student visa grants you the ability to work in Canada legally, which in turn, increases your immigration points.

Canadian Education – Canadian Education will be looked at in a more positive approach than other international education certificates.

Proficiency in English – Unless you come from an English-speaking country, studying in Canada requires a certain level of English – meaning that by the time you attend your studies, your English level will be sufficient – and will likely improve while studying.

Easier to get a job – Being in Canada allows you to approach potential employers directly, attend job interviews, and form helpful network connections.

Post-Graduate Work Permit (PGWP) -Another factor that should be taken into consideration when choosing a country to study abroad is the option to stay in the country after graduation. As a part of Canada's efforts to attract international students and welcome immigrants, it offers an open work permit that allows graduates to stay in the country after graduation and for their Canadian employer of choice.

In conclusion – Studying in Canada opens the door to some undeniably valuable options. Keep in mind that Canada has a relatively welcoming approach when it comes to immigration options – especially for those studying and working there – and you have all the reasons to apply for a Canadian study permit!
Eligibility Requirements
Before applying for a Canadian student visa (and we know how tempting it is!), it's essential to check the eligibility criteria below. First – you must hold an acceptance letter from a designated learning institution (DLI). Applicants applying to study in Quebec must also obtain a CAQ – a certificate of acceptance from the Quebec government. The letter (and CAQ, if required) must be received before applying for the study permit. You can check the list of Designated Learning Institutions HERE! Other requirements that need to be met:
No criminal record – applicants will be asked to show a police certificate proving they have a clean background.

Good health – Good health is required for a student visa, and applicants must produce a medical certificate or get a medical exam if needed.

Sufficient funds – Besides the tuition fees, you must present proof that you can fully support yourself or any additional family members during your stay. Adequate funds are not only important for your tuition and living expenses but also for transportation to return to your home country. Currently, the required amount is CAD 10,000 each year (or CAD 11,000 for Quebec), with varying additional costs for extra family members.
How to Apply
There are two main ways to apply for a Canadian study permit.
To apply, you need to get a visa application package. Usually, you can get the application through your local visa office or the Canadian government website. Still, it is strongly encouraged to apply online only for shorter processing times and health measures.

To determine whether you are eligible for a study permit and what documents your application process requires, you must answer a few questions about yourself. If found eligible, you will get a personal checklist and a code. The checklist includes forms and documents that need to be completed and sent in with your application, along with some instructions for your next steps. They will be valid for 60 days for you to submit your application. Don't forget to keep the code safe, as you will need it for future use!
Note that some applicants may be asked to come in for an interview at their local visa office.
What Happens After You Apply?
So, you chose a recognized learning institution and got your acceptance letter, answered all the questions, gathered all the documents, and finally submitted your application for the study permit. Now what?
The Canadian immigration office mentions on their site that it takes at least eight weeks for them to process your application, so a bit of patience is required. In the meantime, you may get further instructions from them, such as:
Depending on the country you reside in, you may need to set and attend a biometric appointment where they take your photo and collect your fingerprints and signature. If you run into issues scheduling the appointment due to COVID-19, click here to find out what you should do.

In case of missing documents, you will be contacted and asked to provide said documents.

If needed, you will need to get a medical exam or a police certificate.
It is important to update your application about any change in your personal information, such as your address, telephone number, name change, etc. It is also strongly advised not to submit multiple applications, which will only slow your application process and create confusion.
If your application is approved:
Congratulations! A study permit will be mailed to you if you're already in Canada or given to you at the port of entry upon arrival in Canada.
If you apply from outside Canada, an electronic travel authorization (eTA) or a visitor visa will be sent to you in addition to the study permit and a letter of introduction that states that you're allowed to study in Canada. Make sure to have all of these documents with you when you arrive in Canada, along with the passport you used for the application to show to the border service officer.
*COVID-19 note: Before arriving in Canada, please ensure your DLI is on the list of institutions with an approved COVID-19 readiness plan. You can find out more information here.
If your application is NOT approved:
You will get a letter explaining why your application was refused.

You will receive a letter explaining why your application was refused. Possible reasons are not showing proof of sufficient funds, not passing your medical exam, not convincing the officer that you will leave Canada after your studies, etc.

You can always contact the visa office for questions regarding the refusal of your application.
Are you interested in studying in Canada? We can help you with the process and with any additional questions. Apply now. Call Sure Immigration for more information.